Watch, Companion and Family Dog
At the end of the thirties, beginning of the forties of the 19th century, Heinrich Essig, town Councillor in Leonberg near Stuttgart, crossed a black and white Newfoundland bitch with a so-called "Barry" male from the monastery hospice Grand St.Bernhard. Later a Pyrenean Mountain
Dog was added.
This resulted in very large dogs with predominantly long, white coats. Essig's aim was for a lion-like dog. The lion is the heraldic animal of the city of Leonberg. The first dogs really called "Leonbergers" were born in 1846. They combined the excellent qualities of the breeds from which they stemmed.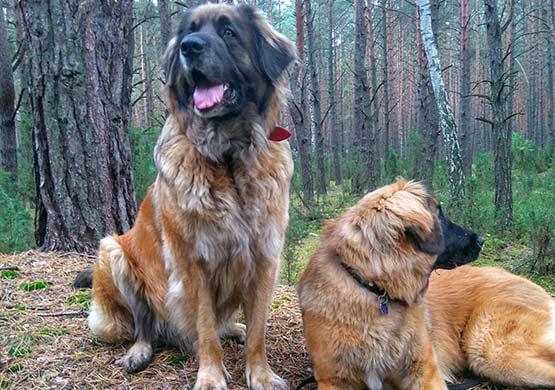 Only a short time later, many of these dogs were sold as status symbols from Leonberg all over the world. At the end of the 19th century, the Leonberger was kept in Baden-Württemberg as the preferred farm dog. His watch and draft abilities were much praised.
In both World Wars and the needy post war times, the numbers of breeding stock reduced dramatically. Today the Leonberger is an excellent family dog which fulfills all the demands of modern life.

As a family dog, the Leonberger is an agreeable partner for present day dwelling and living conditions, who can be taken anywhere without difficulty and is distinguished by his marked friendliness towards children. He is neither shy, nor aggressive. As a companion, he is agreeable, obedient, and fearless in all situations of life.
The following are particular requirements of steady temperament:
Self-assurance and superior composure.
Medium temperament (including playfulness).
Willing to be submissive.
Good capacity for learning and remembering.
Insensitive to noise.